There was no way I'd describe myself as a "Malick Head" way back in 2010, prior to seeing his rhapsodic Palme d'Or winner, The Tree of Life. But I definitely would now. The seismic activity generated by that film at the time of its (weirdly precarious) release nevertheless led me to travel to France by road to see it before it came out in UK cinemas, as no distributors here wanted to touch it for some reason.
Though you can trace a stylistic evolution from his feted debut feature, Badlands, from 1973, to the work he's making now, The Tree of Life felt like an epochal moment in Malick's career, and within global cinema culture. And that feeling was evident even within people who didn't chime with the film. The 2010s was Malick's decade, a period of feverish creativity, formal experimentation and swimming against the harsh tides of identikit convention. Character, story, editing, framing, sound design, costume, dialogue, special effects – everything is up for grabs.
In this issue of LWLies, we take a voyage through time, delving into the Terrence Malick story from his earliest days as a jobbing screenwriter with a handy knack for salty Southern idioms, to the present day and the release of his heady ode to resistance and spirituality, A Hidden Life.
Since working for this magazine I've been waiting for the stars to align and to be able to splash a Malick movie on the cover, and frankly I'd have been happy with any of those he gifted us since The Tree of Life. Finally, everything slotted into place and so here is an issue celebrating the lonesome genius of modern cinema's foremost poet-philosopher.
On the cover
A Hidden Life is the story of an Austrian conscientious objector in the era of Hitler's rise to power, but this theme of personal and political sacrifice is set against a simple and pure love story. London-based illustrator Niall Grant has created a double cover in a folk-gothic style that features Franz and Fani Jägerstätter (played by August Diehl and Valerie Pachner respectively) which connect at the centre to emphasise a human bond that can never be broken.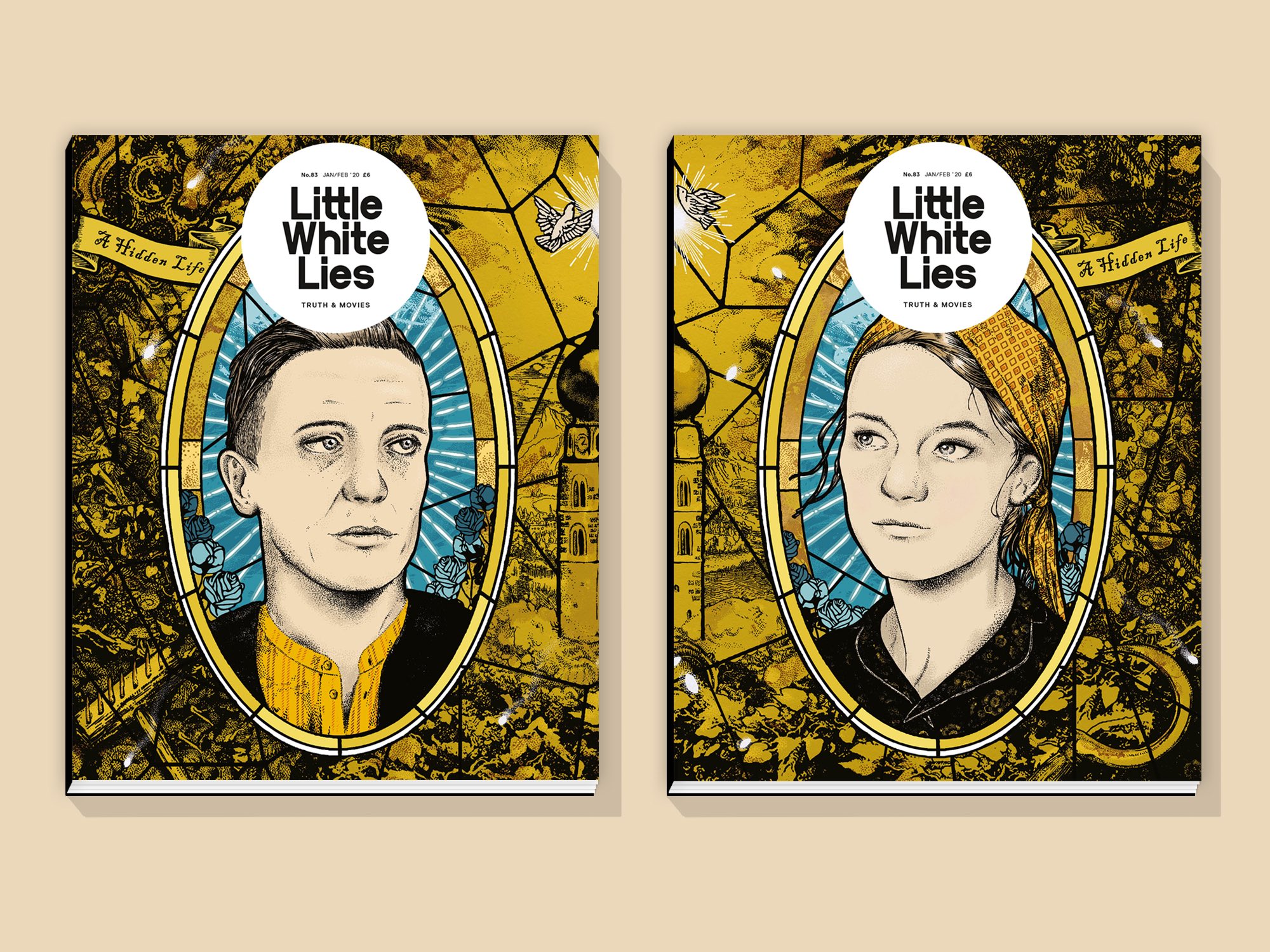 In this issue…
No Regrets
August Diehl and Valerie Pachner reveal to Hannah Woodhead what it was like to make art on a movie set with Terrence Malick.
Young God
Malick is known for the high seriousness and cosmic expansiveness of his work, but that wasn't always the case argues Nick Pinkerton.
The Ten Commandments
A ten-essay symposium on the feature films of Terrence Malick. Each essay taps into a unique aspect of the individual films, which range from deep the trenchantly critical to the deeply personal. Contributors include Anna Swanson, Claire Marie Healy, Martyn Conterio, Adam Nayman, Dilara Elbir, Lillian Crawford, James Slaymaker, David Jenkins, Hannah Woodhead and Adam Woodward.
Threads
In her regular column on clothes and film, Christina Newland traces the rich iconographic history of the priest's habit.
The best films of the decade
A round up of our broad survey of the great films of the 2010s. How many have you seen?
Illustrations by Sophie Mo, Yann Le Bec, Jamie Eke, Stephanie Sergeant.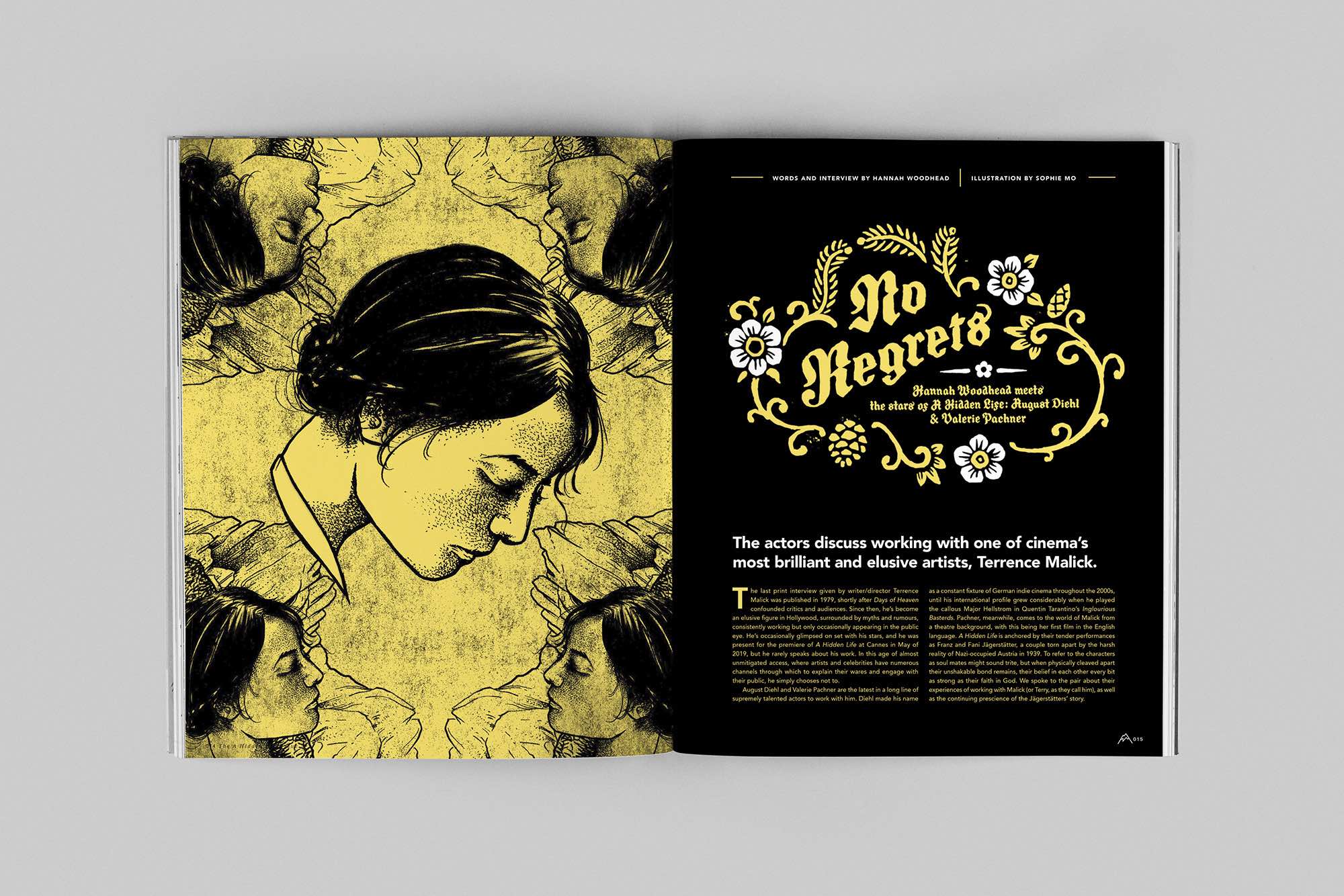 In the back section…
Willem Dafoe, ultra-dedicated star of wackado cabin-fever horror comedy, The Lighthouse, explains why he doesn't eat lobster any more to Adam Woodward.
Céline Sciamma, director of lauded French romance Portrait of a Lady on Fire, picks apart modern definitions of feminism with Elena Lazic.
Jessica Hausner discusses the intricacies of her eerie sci-fi parable Little Joe with Adam Woodward
Dev Patel is revealed to be the one of the loveliest people in film as he discusses his lead role in A Personal History of David Copperfield with Hannah Woodhead.
Todd Haynes has made his first legal thriller in Dark Waters, and David Jenkins meets him to rake over the results.
Trey Edward Shults is the young turk of the American Indie scene, talking up his new musical-driven family saga, Waves, with Hannah Woodhead.
All illustrations by Iris Hetzfeld
In review…
Robert Eggers' The Lighthouse, Bong Joon-ho's Parasite, Destin Daniel Cretton's Just Mercy, Benedict Andrews' Seberg, Shengze Zhu's Present. Perfect., Adam Egypt Mortimer's Daniel Isn't Real, Jessica Hausner's Little Joe, Clint Eastwood's Richard Jewell, Michael Winterbottom's Greed, Melina Matsoukas' Queen & Slim, Shinkai Makoto's Weathering With You, Jay Roach's Bombshell, Céline Sciamma's Portrait of a Lady on Fire, Takashi Miike's First Love, Armando Iannucci's A Personal History of David Copperfield, Suhaib Gasmelbari's Talking About Trees, Luke Lorentzen's Midnight Family, Richard Stanley's Colour Out of Space, Todd Haynes' Dark Waters, Terry Gilliam's The Man Who Killed Don Quixote, Trey Edward Schults' Waves, Hassan Fazili's Midnight Traveller and Justin Kurzel's True History of the Kelly Gang.
Also, our Top 30 Home Ents releases of 2019.
LWLies 83 will be with subscribers on 11 January and on-shelf 13 January. Pre-order or subscribe now from our shop.
The post LWLies 83: The A Hidden Life Issue – On Sale Now! appeared first on Little White Lies.