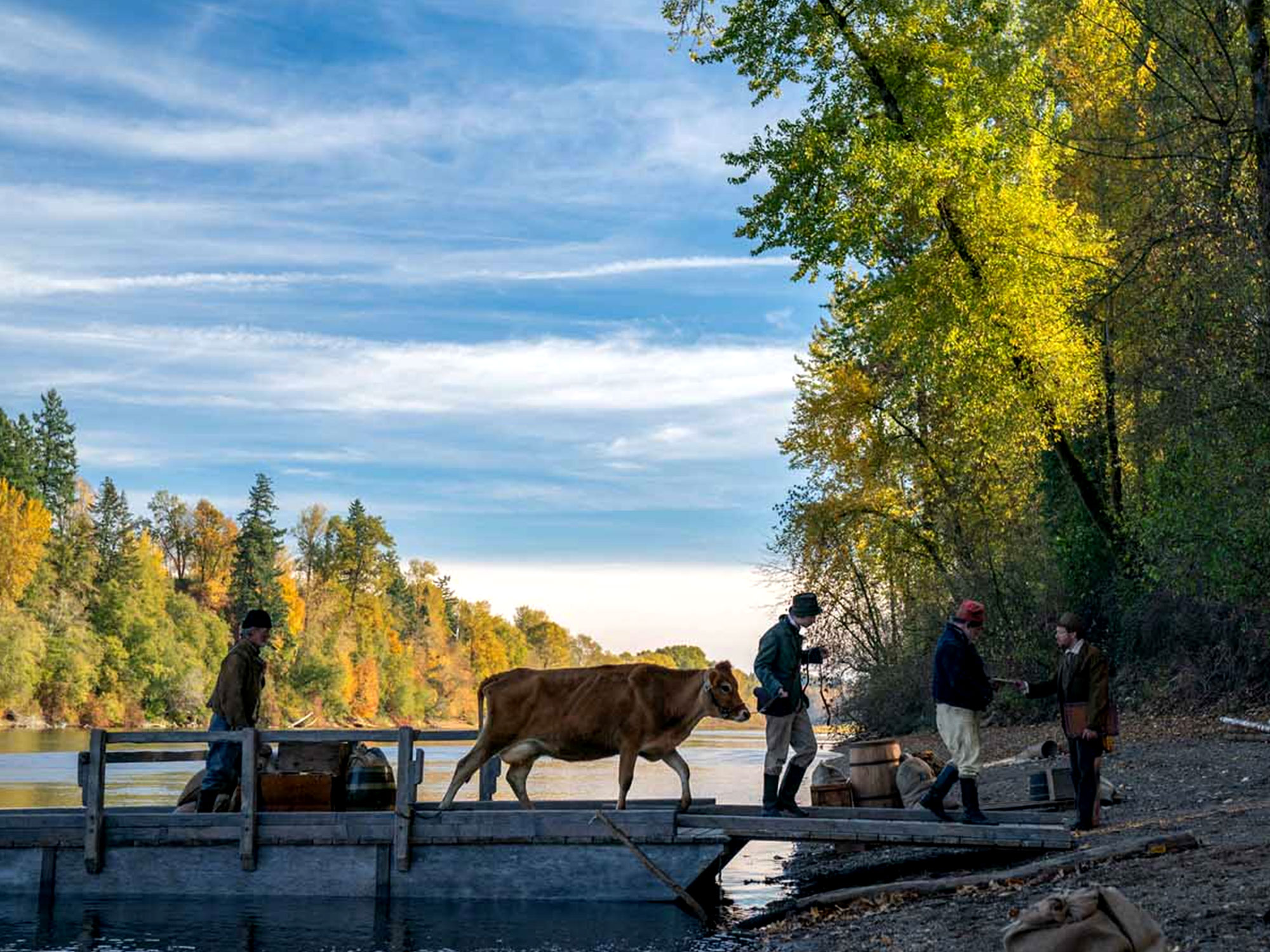 Kelly Reichardt, cinema's preeminent poet of the American West, will make a return in truly magisterial fashion in 2020. Her new film First Cow blazes a trail through a lush, vernal Pacific Northwest during the early 19th century, a vision as vivid now as it was when she toured through the area in Meek's Cutoff ten years ago.
This morning brings the first trailer for Reichardt's latest, and a fine trailer it is, in no small part due to the judicious selection of pull quotes from only the most esteemed and good-looking critics. (I am quoted in the trailer.) The attendees at the film's New York Film Festival premiere gave the marketing team lots to work with, as the film emerged ahead of schedule as one of the best-reviewed releases set for 2020.
John Magaro stars as the humbly monikered Cookie, a country meal-prepper for the hardy fur trappers wending their way through the untamed wilds. In the mold of Reichardt's Old Joy, a tender friendship blossoms between him and a fellow wanderer, in this instance a Chinese immigrant named King-Lu (Orion Lee), who finds that a lot of Cookie's gentle ethos of care and nurturing resonates with his personal philosophy.
They're joined in a mission of mercy, to bring a small taste of home to the unforgiving woods in which men brutish and less-so (Toby Jones makes a memorable appearance as a dandy fop amused by the pair's "oily cakes") seek their fortunes. Reichardt captures this simple gesture of humanity with an eye for details, noting how the little things – turning a flailing salamander over on its back, for instance – can amount to a larger declaration of compassion.
Something about the combination of the slimmed aspect ratio, the serene dearth of dialogue, the beckoning fertility of the forest, and Magaro's soothing voice makes this something close to arthouse ASMR, nothing if not a deeply therapeutic experience of the most sensory-response level. It's one of those rare, precious movies that a person can only let wash over them – not to be missed.
First Cow comes to cinemas in the US on 6 March. A UK date has yet to be set.
The post Kelly Reichardt blazes a trail in the First Cow trailer appeared first on Little White Lies.