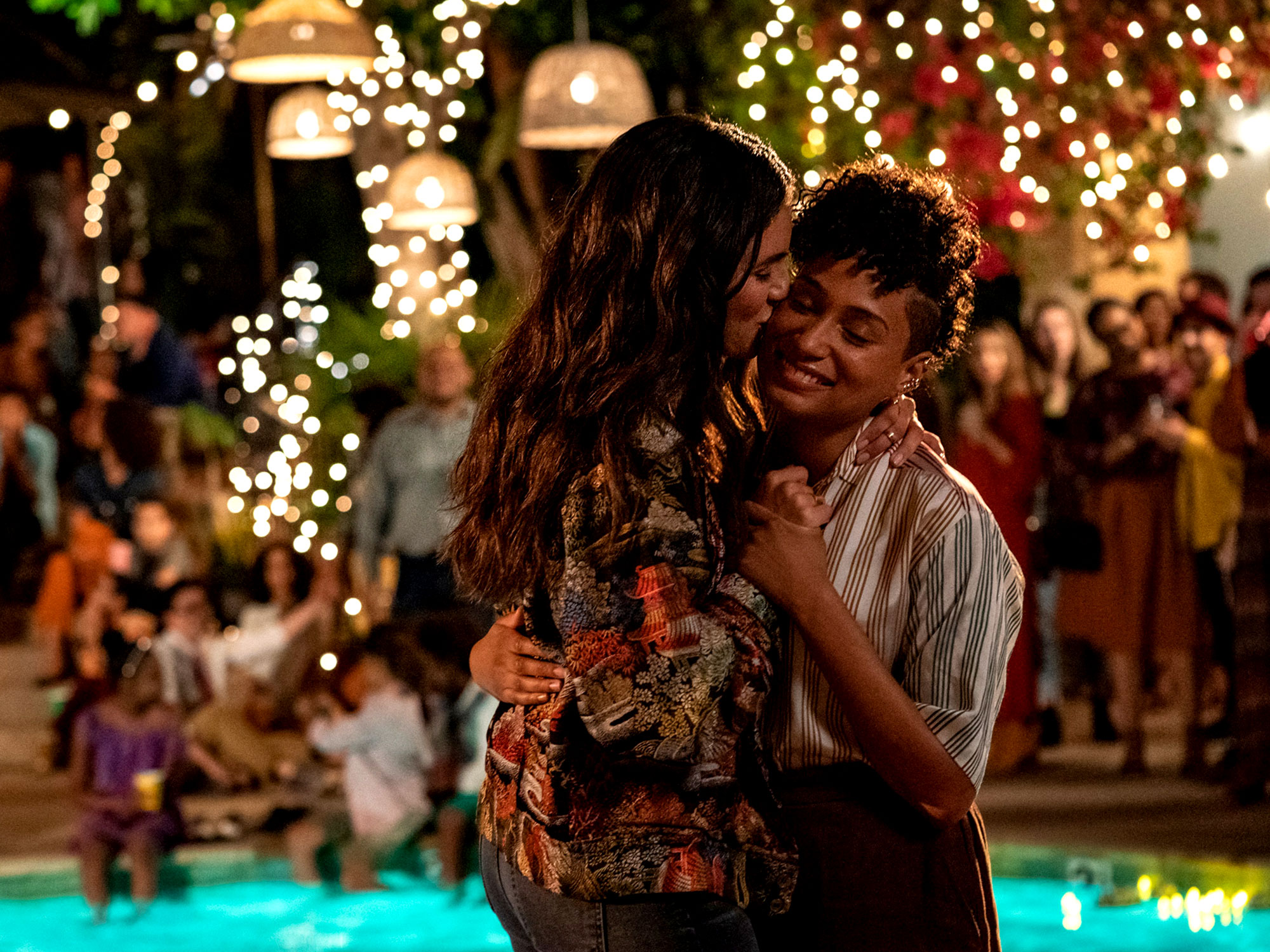 A black woman wriggles and writhes in ecstasy, her sensual moaning signalling her imminent climax. From between her thighs, a young latino woman steals glances at her, studying her reactions, gauging the right spot that will finally send her over the edge and plunging into that warm, joyous pool of post-coital bliss. As they share their breathless sentiments for one another, the recipient of this delicious bout of morning pleasures questions the intensity of her horniness. The answer shimmers on her partner's fingers in crimson red – a simple fact, a part of female sexuality that is neither celebrated, analysed nor shamed.
Following in The L Word's tradition of tantalising opening scenes, the revival's premiere episode, 'Let's Do it Again', throws us straight back into a Los Angeles that appears to consist entirely of LGBT+ folk and the occasional cisman or woman – only this time around, the perspectives have changed. While The L Word: Generation Q is still very much focused on the shock value of scenes such as the aforementioned period-sex opening and old-school L'Worder, Shane's (Katherine Moenning) sexcapades, our favourite tribe of LA lesbians is going through its fair share of growing pains, and it seems as though these are set to be the main drivers behind this new story arc.
Alice (Leisha Hailey), Shane and Bette (Jennifer Beals) are all navigating new lifestyles, career choices and modern patchwork family dynamics that feel true to their characters and pose intriguing questions. Seeing Bette running for mayor makes perfect sense given the powerhouse of a woman she is, and even Alice's first clumsy attempts at parenthood ("It's a whole thing") feel natural to her character. Shane, on the other hand, seems to be stuck in the same cycle of meaningless sex brought on by an unshakable fear of commitment. And while, in some sense, it's sad to see that she has not grown as a person – at least in respect to love and relationships – it somehow feels right that she hasn't. After all, some traumas take a lifetime to repair.
Prior to reuniting with the three originals at their new Planet-esque hangout, the audience is introduced to a fleet of new generationers such as Micah (Leo Sheng), a transman smitten with his new neighbour; his roommates, Dani (Arienne Mandi), a successful communications manager who likens a younger version of Bette, and her girlfriend, Sophie (Rosanny Zayas); and, Finley, a Shane-meets-Alice hybrid who moves – and possibly fucks – like Shane, and talks with the inexhaustible energy and wit of Alice, portrayed by Jacqueline Toboni.
Finley, so far, is the most intriguing and enjoyable character of the Q generation. We are drawn to her relaxed vibe, unapologetic presence and lust for LA life, whereas the aforementioned characters are still struggling to compete with the veterans, with whom they all share (in)direct connections. While we hope this new era – aka this season – will give the newcomers a chance to develop into multidimensional characters, we suspect showrunner Marja-Lewis Ryan may be relying on past, tried and tested (often stereotypical) character types to attract the same demographic that tuned in back in the early 2000s.
It is doubtful whether the current LGBT+ generation will respond to this reimagination the same way it did with Tales in the City, in which hot topics and socio-political debates were confronted fearlessly and, at times, annoyingly head-on, true to Millennial wokeness. Sex and nudity were explored from the queer gaze of Lauren Morelli, rather than exploited for the hetero masses; there was a softness and sincerity to the Barbary Lane relationships and love-play. The same cannot be said of The L Word: Generation Q.
Instead of redefining the queer TV landscape, it seems Ryan and Showtime dove into the show with a let's-do-it-again attitude – and, unfortunately, this means they are bound to make the same mistakes all over again.
The post The L Word: Generation Q review – still struggling with growing pains appeared first on Little White Lies.