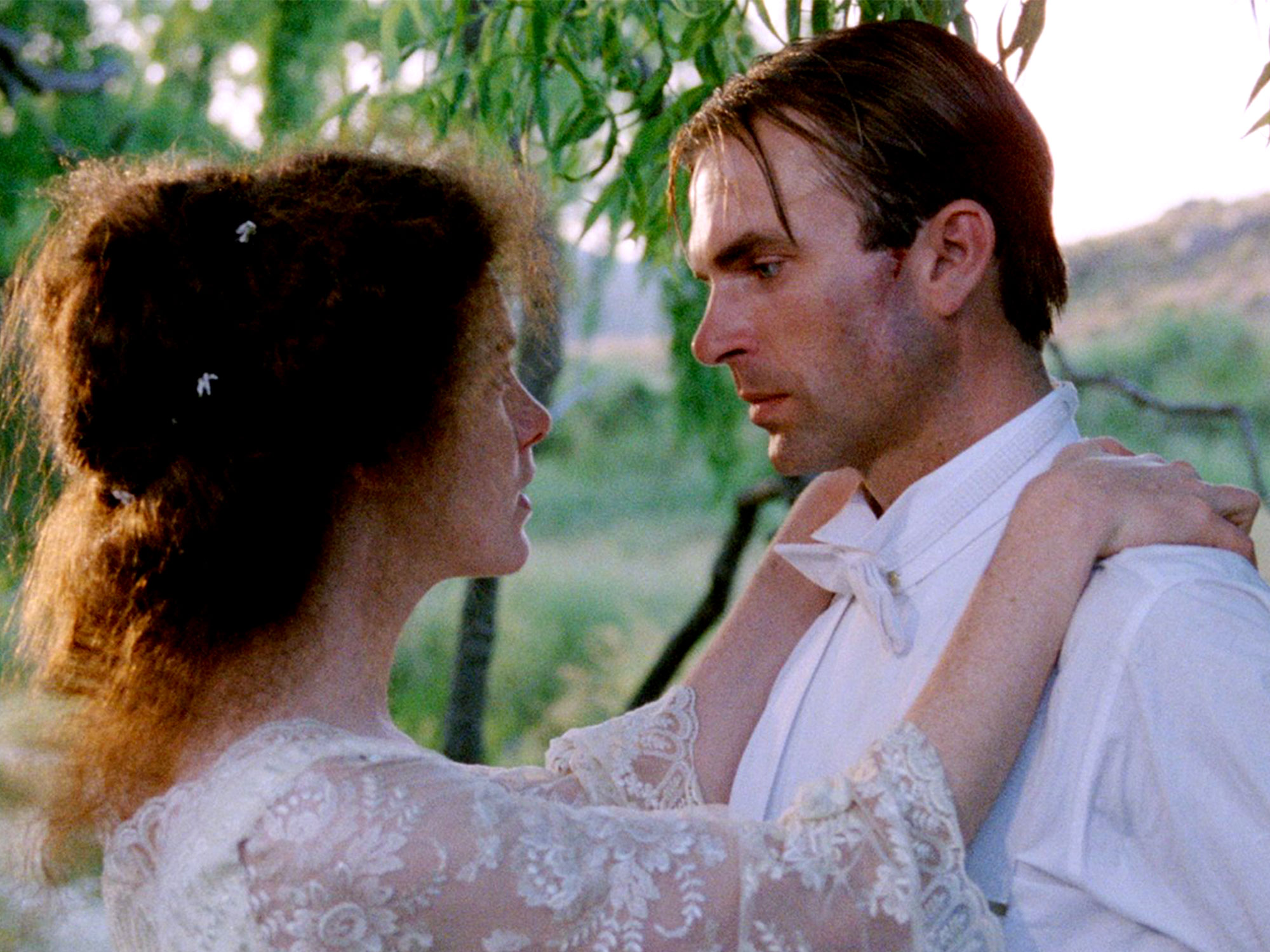 A young woman with wild curly hair is hunched over a desk, writing and dreaming of a life beyond corsets, dust and drudgery. But this isn't Little Women's Jo March, though the director in question went on to helm the 1994 adaptation of Louisa May Alcott's novel, starring Winona Ryder. This is Sybylla Melvin, who lives on a drought-stricken farm in Possum Gulley, Australia. "Here is the story of my career," she states aloud as she writes, "I make no apologies for being egotistical, because I am."
Gillian Armstrong's My Brilliant Career premiered at the Cannes Film Festival in 1979 and was released in Australia the same year. Not only did it launch the careers of Judy Davis, who won a BAFTA for her role as Sybylla, and a youthful Sam Neill, it was also the first Australian film to be directed by a woman since the silent work of Paulette McDonagh. Based on the autobiographical novel by Miles Franklin, the film remains an impassioned declaration of female authorship that began to reclaim Australian cinema as a space for women's voices.
The Australian New Wave, which both redefined its national cinema and brought it to an international stage, was at its peak by the late 1970s. Beginning with films like Nicholas Roeg's Walkabout and Peter Weir's Picnic at Hanging Rock, alongside scuzzier fare like Wake in Fright and Mad Max, the movement was characterised by rebellion against authority and the repressive cultural norms inherited from British rule.
Directors at the time were grappling with an alternative postcolonial national identity, but almost always through a white, masculine lens. Films like Gallipoli romanticised the tradition of male 'mateship' alongside a confrontation of colonialism, while Australian westerns like Mad Dog Morgan mythologised the lone outlaw bushman. Indigenous Australians were largely excluded in front of and behind the camera, though an alternative Aboriginal documentary movement had emerged by the mid 1970s.
In an interview for the Criterion Collection, Armstrong recalled that when she was growing up in Melbourne in the 1950s, a woman's career meant teaching, nursing, or secretarial work. But, like the tenacious Sybylla, Armstrong followed her own path and became one of the first students to attend the Australian Film and Television School. When she read Franklin's novel she was struck by how much Sybylla sounded like a contemporary heroine, and felt that only a woman could visualise this "plain, useless and godless" girl, who would go on to become one of the nation's most beloved authors.
Whisked away from the bush to live with her wealthy grandmother, Sybylla storms through her elegant new home like a hurricane. "You have a wildness of spirit that's going to get you into trouble all your life," her aunt observes. Her hair is unruly, she sings bawdy songs in the drawing room, and the bouquet offered to her by a pompous English suitor is immediately thrown in a pond. Armstrong lingers on a close-up of the yellow flowers floating on the surface as raindrops make the water ripple; femininity cast aside for something wilder. "I'm not marrying anyone," she announces, "I'm going to have a career." But her resilience is tested by the attentions of neighbour Harry Beecham (Neill), while her father's debts threaten to trap her in poverty again.
Sybylla is unmistakably a heroine crafted by women. For one thing, she's strikingly unglamorous; her face free of make-up and dotted with freckles. She first catches Harry's eye halfway up a tree while picking blossom, although he initially mistakes her for a servant. Harry is also consistently framed as an object of her desire: the camera adopts Sybylla's gaze by lingering on his face and body. In one memorable scene, she instigates a pillow fight around the garden, discharging their erotic tension, before he pulls her to the ground and they collapse almost post-coitally in the grass.
It's not hard to see why Harry is enchanted by her charm and quick wit, but Sybylla is hardly immune to insecurities or flaws. Her selfishness and snobbery give her an edge of unlikeability that makes her identifiably human, though these characteristics are gradually unlearned as she experiences new hardship and begins to find her own creative voice.
Like Jo March, Sybylla wants nothing more than to be a writer. But, more radically, she eventually rejects the security of marriage in favour of real independence. Just as her ambition provided the spark for Armstrong's own career, so Armstrong has inspired other Antipodean female directors such as Jane Campion and Cate Shortland. In 2016, Screen Australia even established a fund for women in the screen industries named after the film. My Brilliant Career closes with Sybylla watching the sun rise over the arid landscape, her manuscript in hand. A new day dawning, a legacy of Australian women telling their own stories only just beginning.
The post How Gillian Armstrong feminised Australian Cinema appeared first on Little White Lies.