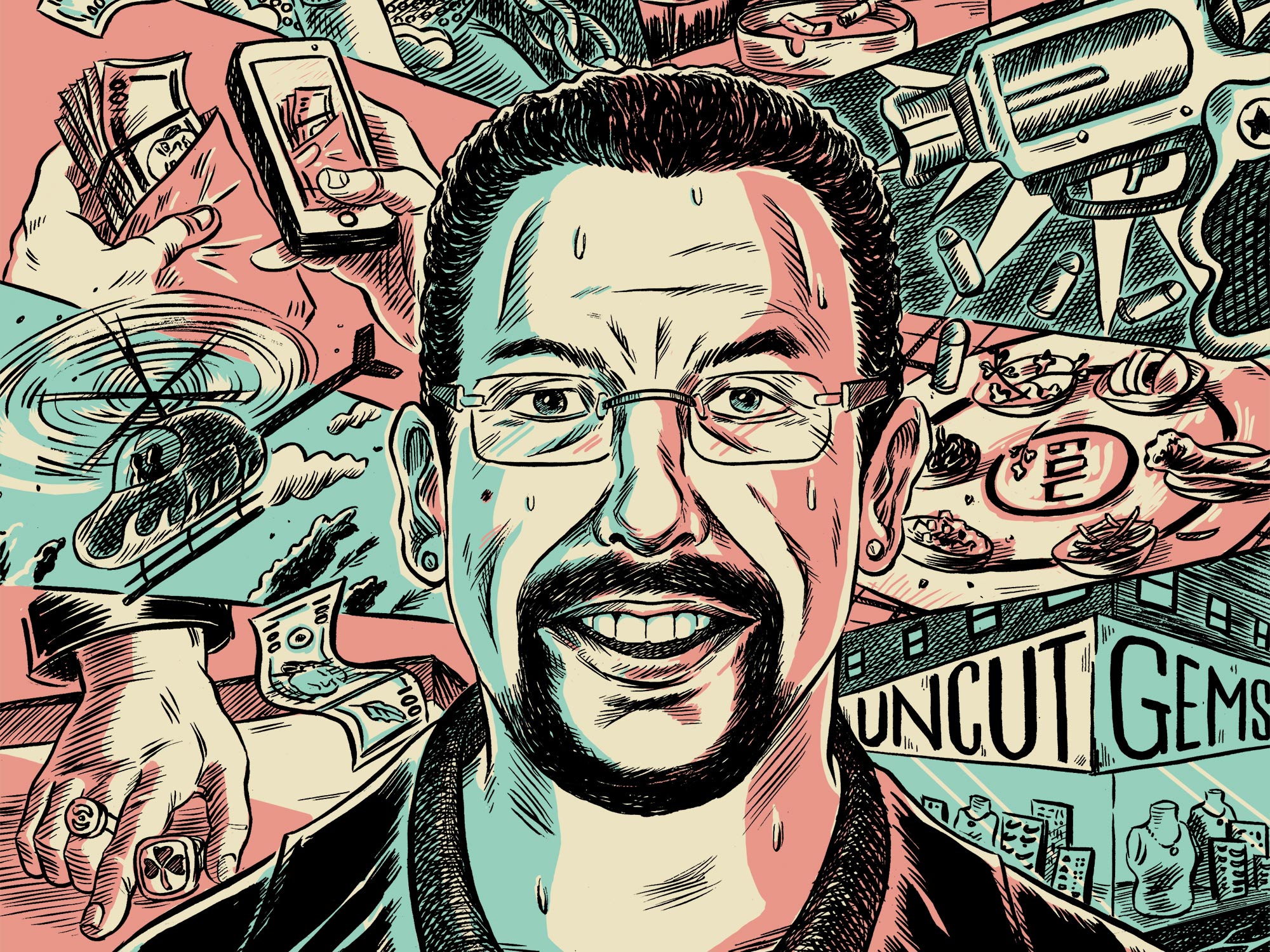 We've long worshipped at the altar of Adam Sandler. All the way back in 2013 our esteemed editor David Jenkins gave a presentation entitled 'The Cinema of Adam Sandler' at London's ICA, so perhaps it was only a matter of time before we managed to find an excuse to get the Sandman on the cover of our magazine.
Luckily for us, New York filmmakers Josh and Benny Safdie are also Sandler fans, and in casting him in their excellent fifth feature, Uncut Gems, they provided us with a perfect opportunity to boldly go where LWLies has never gone before…
On the cover…
We're thrilled to be working with Brighton-based artist Tavan Maneetapho again, who's previously illustrated for Little White Lies. This is her first cover for us. She says of her own style:
"The characters in my universe are usually the misfits in society – the daydreamer, the loner, the one that laughs just a little too loud. I create work with the hope to touch and to affect feelings that aren't necessarily on the surface, sometimes juxtaposing sadness with humour."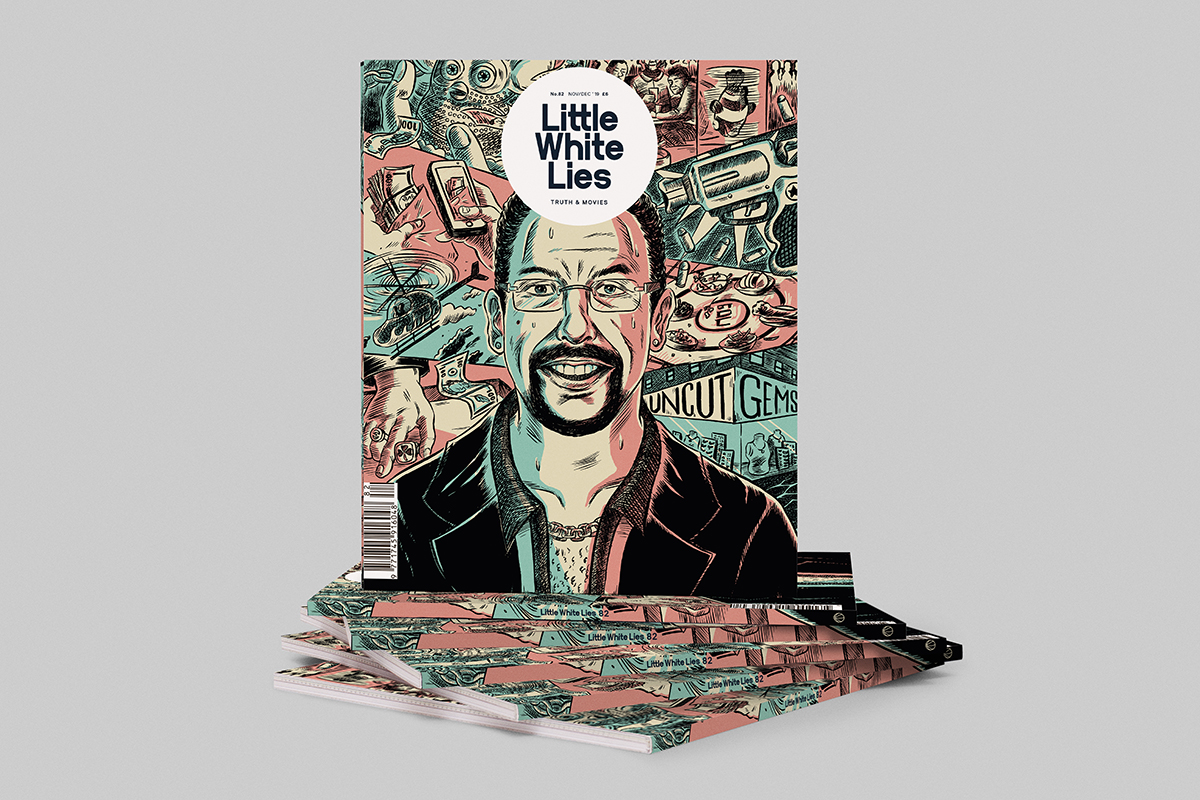 In this issue…
Money on the Street
Charles Bramesco meets Josh and Benny Safdie for a chinwag about Sandler and seder.
Safdie & Co
Hannah Woodhead speaks to five key Safdie collaborators about what goes into making one of their movies.
Shine On You Crazy Diamond
Nick Pinkerton provides a profile of Adam Sandler, a thoroughly modern movie star.
Stand-Up Guys
A survey of the American comedians who tried their luck on the big screen. Words by Adam Lee Davies.
Shetl Fabulous
Caroline Golum provides a personal journey through Jewish cinema.
The Karat Patch
We gave a group of illustrators some movie-watching homework and asked them to design a piece of jewellery inspired by their title. These are the results.
A Safdie Brothers Reading List
Christina Newland, David Jenkins and Adam Woodward write their own book reports on some required reading assigned by Josh and Benny Safdie.
Threads
In her regular column, Christina Newland delves into the history of a cinematic status symbol: the signet ring.
Illustrations by Lauréne Boglio, Tavan Maneetapho and Sophie Mo.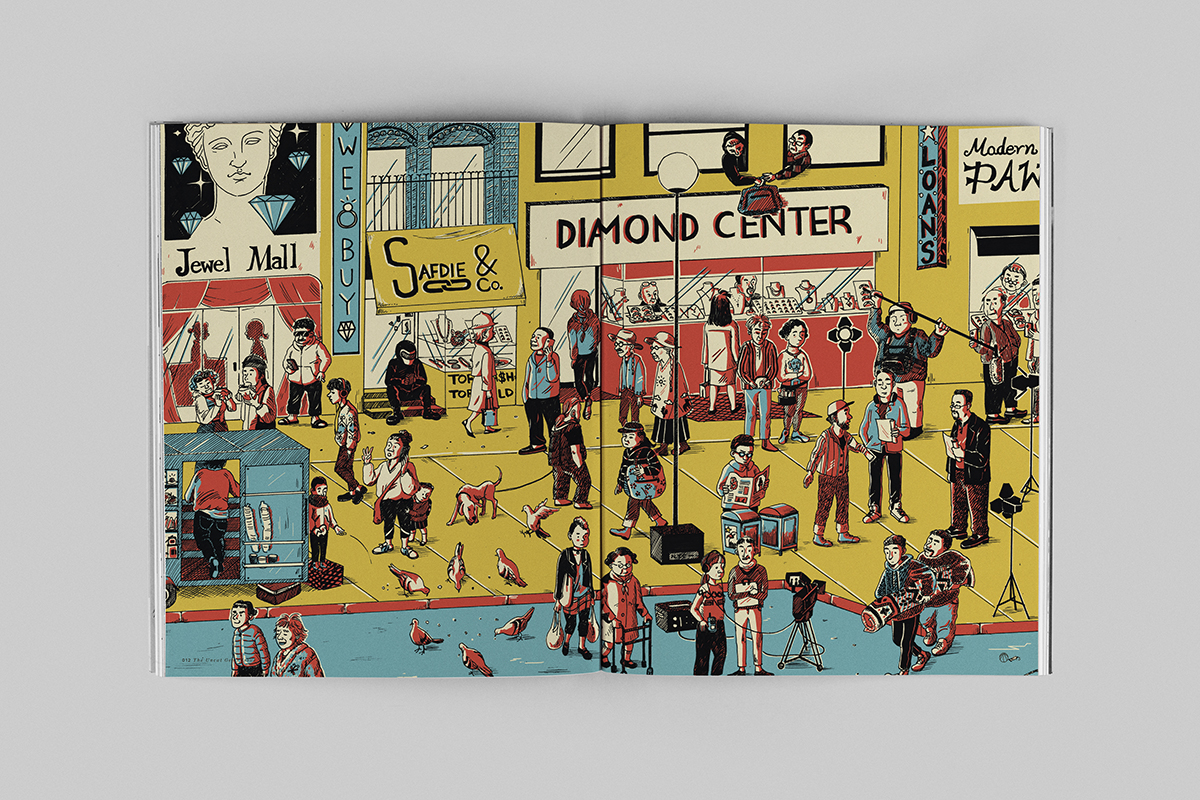 In the back section…
Rian Johnson outlines his theories about making the whodunit cool again to Hannah Woodhead.
Christina Newland receives an audience with two cinematic legends: Al Pacino and Robert De Niro.
Mati Diop speaks to David Jenkins about making the transition from short films to a feature that was the toast of Cannes.
Jennifer Kent reflects on her bruising portrait of Australian colonialism, The Nightingale, with Hannah Woodhead.
Noah Baumbach recalls his memories of California and scenes from a marriage to David Jenkins.
Kim Longinotto explains to Sophie Monks Kaufman what inspired her to trade interviews for archive footage in her latest film, Shooting the Mafia.
Edward Norton talks Chinatown, Thom Yorke and Motherless Brooklyn with Adam Woodward.
All illustrations by Tom Humberstone
In review…
Martin Scorsese's The Irishman, Rian Johnson's Knives Out, Mati Diop's Atlantics, Jérémy Clapin's I Lost My Body, Noah Baumbach's Marriage Story, Taika Waititi's Jojo Rabbit, Alex Gibney's Citizen K, Wang Xiaoshuai's So Long, My Son, Marielle Heller's A Beautiful Day in the Neighbourhood, Jennifer Kent's The Nightingale, Alma Har'el's Honey Boy, James Mangold's Le Mans '66, and more.
LWLies 82 will be with subscribers on 12 November and on-shelf 13 November. Pre-order or subscribe now from our shop.
The post LWLies 82: The Uncut Gems issue – On Sale Now! appeared first on Little White Lies.